Back end of last summer, when business was really getting busy, I was taking on new clients, I was looking to enrol on a course to take my business in a slightly different direction and we were plunged into a loft conversion three months earlier than planned, I realised I also needed to change the face of my website to please Uncle Google (because I didn't already have enough on my plate) and as a people pleaser, I thought, what's the best way?
Blogging.
I've never written one before and, in all honesty, I don't actually read that many.
But the idea and plan is, is that it will move my website from a static one, which in honesty I'm quite happy with, to an active one which Uncle Google is even happier with.
Now, as you all know, my content is not particularly top notch (or regular) when it comes to Social Media, but it's MY content and comes with good intent.
I struggle with 'what' to say. I don't want to come across as someone who teaches a grandmother how to suck eggs but in the same vein, I appreciate I have, ahem, several decades of experience in all sorts of things that you don't. But, nine times out of 10, when I sit down to write a social media post of value, my brain decides to take a short holiday, so either it's pretty pants or I give up and pour a glass of fizz instead.
So, rather than do something slowly and build up, I decided to set myself a challenge.
Blogging.
Blimey. Really?
Yes. And now I've said it out loud. Eeek.
Finding a topic to write about when you have a blank page is, quite frankly, mindboggling and overwhelming. I thought I need to narrow it down a bit – but where to start?
I came up with the idea to do a blog each week, using the alphabet A-Z. See what I mean. Now, I am 100% sure you ALL know the alphabet starts at A and goes through to Z, so there lies my problem – I'm telling you something you already know.
However, there will be, I'm sure, a few things along this journey (sorry, I don't like this word either but it is 4.30am when I'm writing this and don't have a thesaurus to hand) that you will find either: useful, interesting, relevant (or irrelevant), hilarious, helpful or just plain boring!
But I have set my challenge and I am a lady of my word. I've attended many network sessions and one phrase that stuck and resonated with me early in my networking days was:
"Say what you do and do what you say".
So, with that in mind, I decided I would write and post a blog once a week.
Now, I'm not a writer (I prefer numbers to letters in all honesty having worked in finance most of my career) but I thought producing a blog once a week was 'standard'.
When I ran my idea past some fellow VAs, they all thought I was crazy.
Even the seasoned bloggers don't do them that often. "Oh", I said. "Now I see my REAL challenge".
Perhaps do them bi-weekly, then you'll have a year's worth.
"Cool", I responded.
So, here goes.
What do you automatically think of when you say "A for…?
Apple.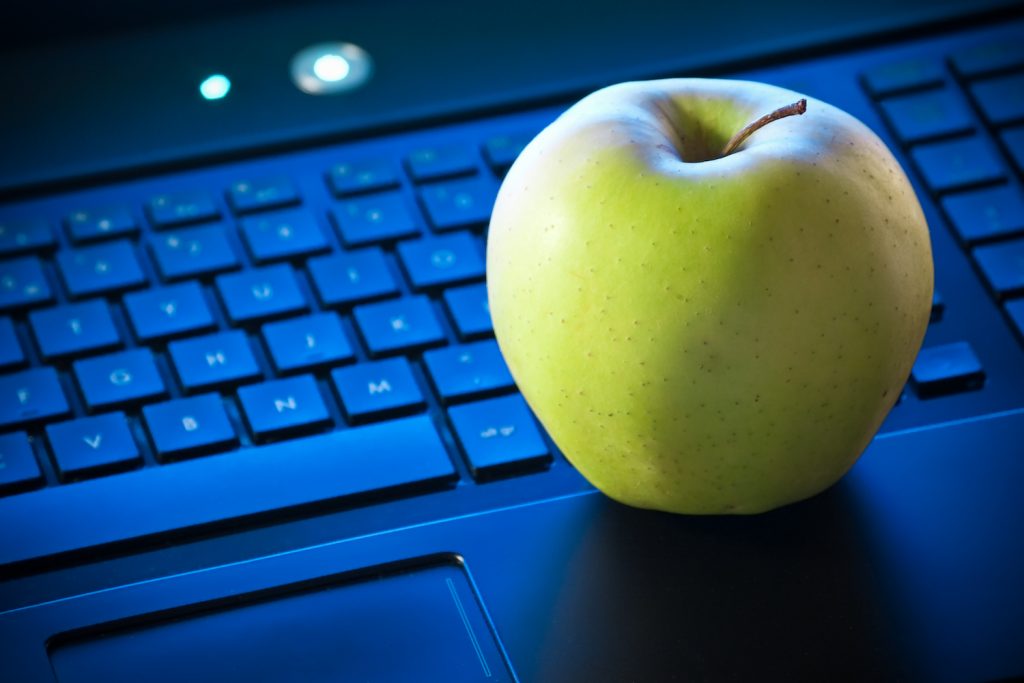 Well, it's still early and I've just had a lightbulb moment!
I was going off on a tangent how the humble Apple isn't particularly business-related, but actually you could spin it and make a whole blog on how different varieties of Apple are like people and/or businesses and how each variety can represent different people: some are sweet, some are sour, some need a simmer to make them sweet, some you need to peel the hard exterior to get to the soft centre. But as someone who is allergic to Apples (as with all fresh fruit* – true fact), I'm not sure I qualify to write a whole blog on Apples. Or indeed end up with it being an interesting read.
But… here's my lightbulb moment.
Apple also means something else to about 50% of you.
I'm a Microsoft girl through and through. I just know where I am on Windows and Android. So when I first thought of A for Apple, my instinct was the fruit not Steve Jobs.
I once had to use a client's Apple computer to type up a voicemail message they'd received. Well, tbh, I could have written it quicker with a pen and paper by the time I'd worked the bloomin' keyboard. From that moment, I realised Apples in all their forms and me, we're not meant to be.
Look out for the next blog, yes, you guessed it… B!
* except Bananas, but they only taste good smothered in custard.